RECYCLING SCHEDULE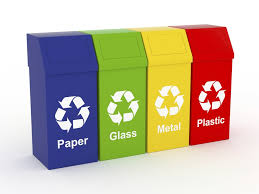 Garbage and Recycling Information

For any information or questions regarding Garbage, Recycling, the Town Wide
Garage Sale, please contact Karen Becker at 973-838-7200 ext. 219. Wednesday's and Thursday's from 9:00 AM to 1:00 PM or email kbecker@butlerborough.com

GARBAGE MUST BE PLACED IN A PLASTIC BAG IN A TIGHTLY COVERED RECEPTACLE. RECYCLING WILL NOT BE TAKEN IF PLACED IN A PLASTIC BAG. PLASTIC TOYS ARE NOT RECYCLABLE.
GARBAGE PICKUP IS EVERY TUESDAY & FRIDAY THROUGH THE ENTIRE TOWN.

Heavy Bulk Items such as sofas, mattresses, etc. will be picked up on Fridays only.
Carpeting which is included in bulk must be rolled, tied and in four foot sections no heavie than fifty pounds. It is suggested that you make arrangements with your carpet installer to haul away used carpet and padding if possible.

Heavy Metals (not including refrigerators, freezers and air conditioners) will be picked up the first Thursday in May, August, and November.

Freon Appliances (refrigerators, freezers and air conditioners) will be picked up the last Wednesday of every month by appointment only. Please call Karen by Wednesday of the previous week at 973-838-7200 extension 219 to be placed on the list or email kbecker@butlerborough.com

Construction Material has a limit of two 33-gallon containers that MUST be able to be
lifted by one man and can be placed on the curb on Fridays ONLY.

Asphalt Roof Shingles will be accepted at Mt. Olive and Parsippany Transfer Station. Information can be obtained by calling 973-808-9651 or 973-347-8106. SHINGLES
WILL NOT BE COLLECTED CURBSIDE.

Yard Waste (definition - leaves, brush & grass clippings) must be recycled in biodegradable paper bags or trash receptacles no larger than 33 gallons. Plastic bags are not acceptable. Brush must be in 4' lengths maximum and 4" diameter, no heavier than 25 pounds per bundle. All bundles must be tied. Biodegradable paper bags are available at
Borough Hall Monday-Friday, 8:30AM-4:30PM and the Butler Library on Saturdays.
Cost: 3 bags for $1.00 **Yard waste will not be taken if contaminated**

Christmas Trees will be picked up on the 2nd and 3rd Monday in January. They must be free of ornaments, tinsel, etc. and not be bagged.

Hazardous Waste Please call (973) 829-8006 for information.

Household Battery Recycling Program - Receptacles are located at One Ace Road. Alkaline Batteries no longer contain mercury and should be disposed of instead of recycled. Nickel-cadmium rechargeable batteries must be recycled. Coin or button batteries must be recycled. Lithium batteries are considered hazardous waste. Any questions contact the MUA at 973-285-8383 or Karen Becker at 973-838-7200 ext. 219 or at kbecker@butlerborough.com

Electronic Recycling - Any questions please email KBecker@butlerborough.com

Ordinance amending Chapter 129 of the Revised General Ordinance entitled "Garbage, Refuse and Recyclables" shall be amended by the following:

> Owners and tenants of all properties shall not place any containers at designated
location prior to 6:00 PM in the evening prior to the scheduled collection and shall
remove all empty containers after collection no later than 8:00 pm on the day of collection. Property owners must place garbage, recyclables, etc. on their own property for pick-up at curbside. No one shall place household garbage or recyclables in public receptacles.

Reminder - All dogs and cats must be licensed by January 31st of the current year. Licenses will be issued in the Health Department - Monday, Wednesday and Friday from 9AM to 3PM.

The cooperation of all residents is needed to make our recycling program effective. Be advised that random inspections will be made to determine compliance with our recycling ordinance. Any household found to be in violation will be subject to enforcement actions.