Programs
Page Navigation

Butler Recreation Programs
Butler Recreation offers many programs for toddlers, children, and adults. These programs are designed to keep residents engaged and involved in our community! Our programs include Zumba, skiing, boot camp, basketball, cross country, chess club, Kinder gym, table tennis, volleyball, and much more!
---
2023 Butler Recreation Spring Track & Field Program

Running April & June - Mondays and Thursdays @ 6pm Butler track. See below and flyer for registration details.
Download flyer, click here.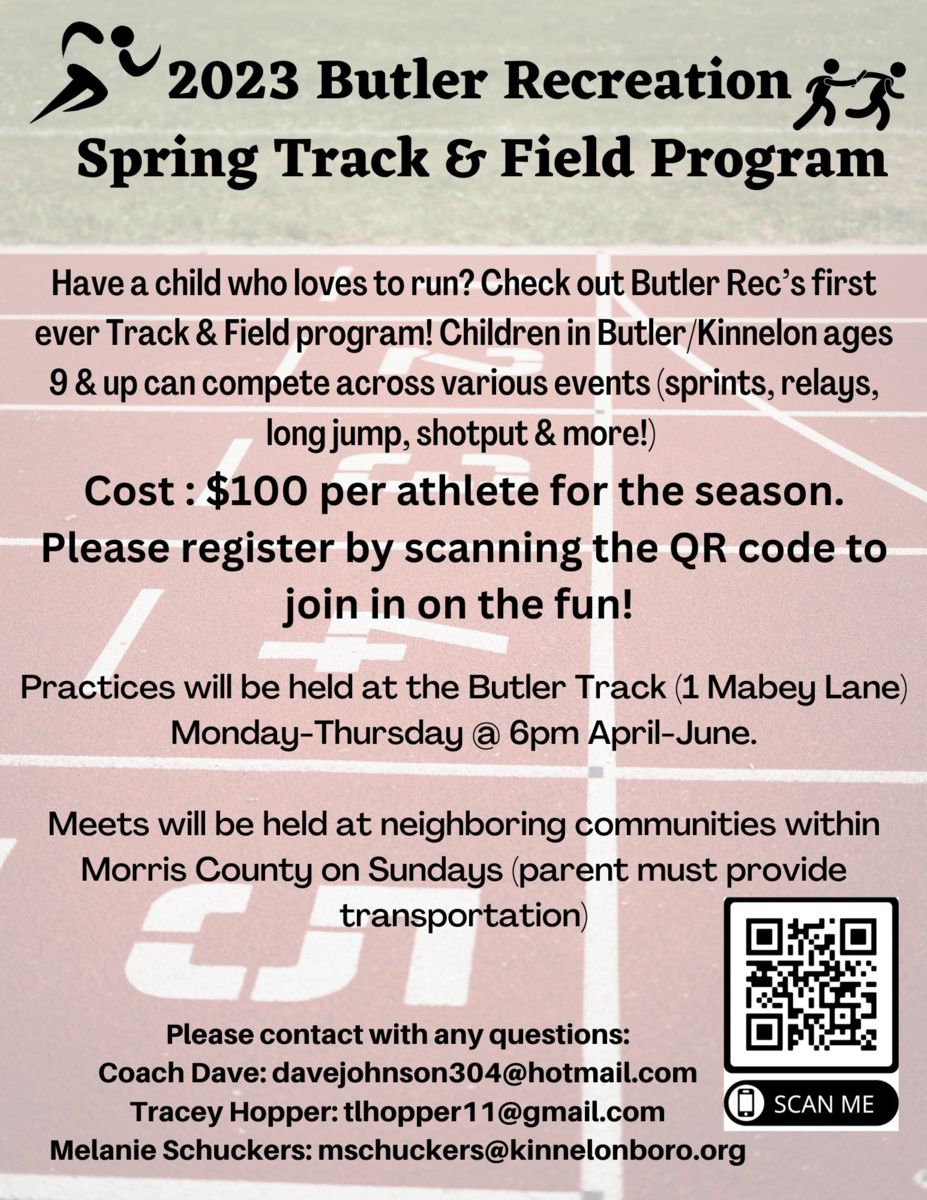 ---
GOLFERS WANTED !!! - PEQUANNOCK TOWNSHIP WOMEN'S GOLF LEAGUE

The Pequannock Township Women's Golf League (PTWGL) is currently accepting registrations for the 2023 Golf Season. There is no residency or county requirement. All levels, from beginner to advanced, are invited to join this friendly and fun women's league. It's a great way to improve your game while enjoying the camaraderie of some new friends.
Golfers play 9 holes at a course and weekday convenient for them. It is suggested that beginners sign up for the Twin Willows course. Other courses include Sunset, Meadows and Deer Run. Registration runs until February 24, 2023, with an 18-week season beginning at the end of April. If you're not sure of a weekly commitment, sign up as a substitute. For more information including registration forms, go to, www.PTWGL.com, email PTWGLNJ@gmail.com or call the Pequannock Department of Parks and Recreation.

Click here for PTWGL Flyer
Click here for Golf Registration Form
---
COED YOUTH BASKETBALL
Youth basketball will be held at Richard Butler School staring January 11th. and continuing for ten weeks. Program times will be from 7:30 - 9:00 p.m.
This program is open to boys and girls in the grades 5 - 8. For further information please call: 973-838-7903
---
STONY BROOK SWIM CLUB
Click here for swim club info!
---
BOYS & GIRLS CROSS COUNTRY
Butler Rec invites all Butler athletes to join our cross-country team. This program is open to boys and girls ages 6-14 years old.
Races will be held at Greystone Park on Sundays. Transportation to/from practices/races must be provided by parents. Practices are held Monday through Thursday at
Butler track at 6:00 p.m.
Cost: $75.00
Registration includes uniform cost, technical shirts, and running gear
---
CIRCUIT FIT
The BEST place to work out ! !
Come Join our fun Adult work out class. This is a circuit style workout good for all fitness levels. We mix up the routines so you never know what you are going to get, but you can be sure you will have a fun and it will always be worth it. You can always try us on for size with a free workout.
When: Tuesdays and Thursdays from 6:30 to 7:30 PM
Where: Memorial Field/Rec Center, RBS (during school year)
What to Bring: a yoga mat, water and a friend (or come alone)
Cost: $35 a month, register through Butler Rec
We know you will love this relaxed fun welcoming group of people. You'll be glad you did.! We have been running continuously since Fall of 2016.
Please contact me, Tia Brady via text 973-934-2179, for more information and to let me know if you will be joining us for a trial class or if you have been away for a while and are looking to get back to class.
We Can't wait for you to join us.
---
MENS BASKETBALL- BUTLER RESIDENTS
Men's Basketball-Come play pick-up games with Butler residents on Tuesdays and Thursdays from 6:30pm- 9:00pm at the Richard Butler Gym.
NO HIGH SCHOOL STUDENTS.
Cost: FREE
---
VOLLEYBALL- ADULTS ONLY
Volleyball-Come play volleyball with Butler residents on Mondays and Wednesdays from 6:30pm- 9:00pm at the Aaron Decker Gym.
Cost: FREE
---
Program Registration
Any programs with a fee require that participants pre-register due to limited class size. Please inquire at the Recreation Department Office for further details and information.